Are You On The Right Track? How Do You Know You're in a Good Niche?
So you want to build a niche site. But how do you know you've chosen a good niche? And once you've started a website, what are some good signs that you're on the right track?
Hi,
I'm Brett from the Niche Laboratory. I started building niche websites back in 2010, so I have plenty of experience in knowing what works and what doesn't.
So what's a good niche?
There are two main answers to this:
You want a niche that's easy to monetise.
You want a niche where it's easy to get traffic.
The best niches are of course those that are easy to make money in AND easy to get traffic!
Can You Make Money From Your Niche?
So how do you tell if YOUR niche is easy to monetise?
This isn't too difficult. Just do a Google search for it and if you see lots of adverts plastered all over the search results page, then it's a good niche!
Take the example of a search for "water coolers":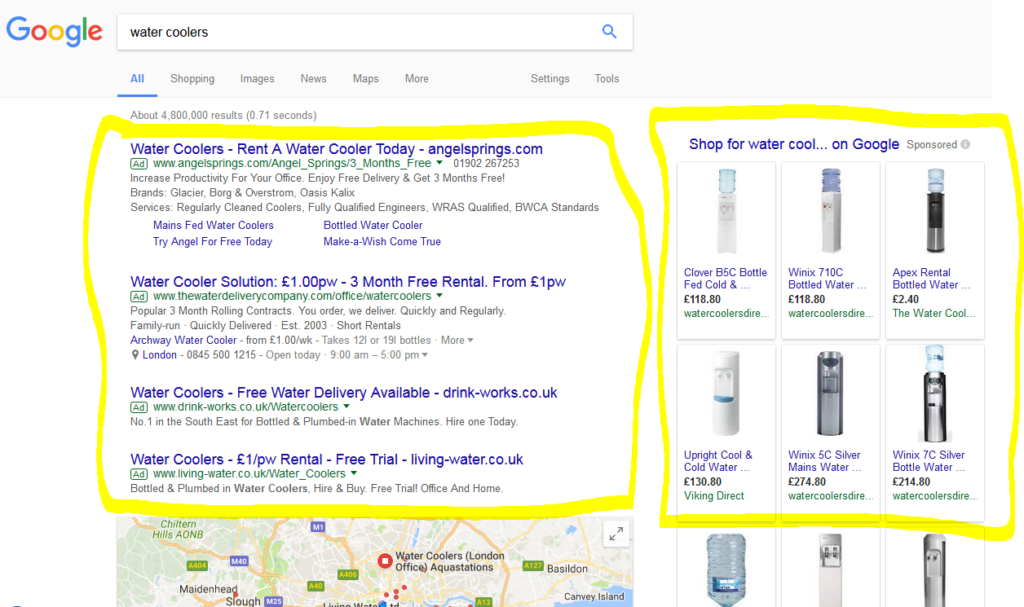 Look at that! 100% of the screen space above the fold is taken up by advertising. So if we had a successful site in this niche, it would be pretty easy to monetise.
Incidentally, this technique isn't totally reliable. For example, Google doesn't tend to show adverts in adult or sensitive niches, but these can be lucrative niches. Some niches might also be lucrative in one country, but difficult or even illegal in another.
Can You Get Traffic To Your Niche Website?
So how can you tell if a niche has potential?
Back in 2010 my test used to be to write a HubPage about a topic. If that HubPage got traffic then it was a good clue that the niche was a good one. I actually launched a few very successful websites based purely on getting a lot of success with a couple of HubPages.
Sadly that idea doesn't tend to work so well these days. But if you do have an existing site that gets some traffic, it's worth testing out a new niche idea by putting an article about your new niche on this existing site. This kind of works better if the niches are related though.
Once you've taken the plunge and started a new niche site, how do you know if the site is worth spending more time on?
Here are some clues:
If a new site starts getting organic search traffic then you could be onto a good thing. You can easily check this in the Google Search Console.
Change the main Search Analytics report to show Impressions for the Last 90 Days. A site with potential should be showing an increasing number of impressions, especially if you've been regularly adding content to the site.
For example, here's a site I started around 4 months ago:

This site seems to be springing into life, and so I am gradually adding additional content.
As well as traffic, it's always a good sign if you have good user engagement. In other words, users like your content and will actively get involved in your site.
This is quite easy to measure:
Keep an eye on your site's bounce rate. If it's below 75% it's a really good sign. If it's below 50% then that's a really good sign.
How many returning visitors do you have? My blogs generally have less than 10% returning visitors. But the Niche Laboratory SEO tool has a return visitor rate of 28%!
If you allow comments then it's a really good sign if people start actually adding comments, especially good comments. I've got a couple of sites where visitor engagement is so good, people have written comments that are actually longer than my original article itself!
What Have Been My Good Niches?
So taking this into account, what are some good niches, and what have been poor niches?
Here's a few niches I have tried:
| Niche | Pros | Cons |
| --- | --- | --- |
| Dating | Easy to get traffic and adverts get high click through rates. | Getting harder to monetise, especially as more people turn to mobile dating. |
| Software | Easy(ish) to get traffic. If you have a good idea, you can make $$$$$, particularly in B2B software. | The move to apps and software as a service (SAAS) models has made it harder to sell traditional downloadable Windows apps (where I made a stack of cash during 2002 – 2008). |
| Property | I once had a nice idea in this niche and made a site which I thought would be really useful. | I failed to get any engagement with users in this niche. I failed to get much traffic either. |
| Make Money Online | I haven't found it too hard to get traffic to this niche. | I've found it hard to actually make money in this niche! |
| Clothing | Could be a good niche, but I need more time to get my site established. | It is competitive, and even big clothes retailers staffed by professionals regularly go out of business. |
| Travel | I got a bit of traffic to my sites, mostly because I had the advantage of living in a tourist-free part of China for a while. As a result I had masses of rare insider knowledge I could blog about. | This niche is totally saturated if you go anywhere near hotels, flights or anything else that is super lucrative. |
| Finance | Anything corporate finance related (stocks, bonds, trading) is brutally hard these days. | Personal finance is a little better. My self managed pension fund has returned 9.2% a year since I opened the account, so I should really find time to tell people how I achieved that. |
| Insurance | I tried a micro niche site in the insurance niche as a Niche Laboratory case study. It wasn't too hard to find a micro-niche that not too many people had tried. I got a great domain name as well. | Like finance, insurance is pretty hard to get into these days. Although I did subsequently get a job with one of the UK's top insurance companies. A few months spent working there made me realise just what a lucrative niche it is – *if* you can get traffic and hence customers. |
| Health | This is a gigantic niche with plenty to write about. | Like finance, it's another niche where Google wants "experts" not amateurs ranking. |
How Long Should You Persist in a Niche?
So you've got your niche and have started building your site. How long before you pull the plug on an unsuccessful venture?
For me it really depends on what else you've got on the go. If you have 3-4 websites and one of them is showing promise, then you should *always* grow your winners. Sell the others, or just let the domain names expire. It's better to have one very successful site, than loads of sites that just make a few dollars a month.
It can take a while to get established in a niche though. I launched my software business in 2002. But it wasn't until 2008 that I had my highest earning month.
And Danny Choo bought DannyChoo.com in 2002. He started his site as a blog, but it was only in around 2010 that it really started to take off. Fast forward to the present and now he has a whole raft of businesses and enterprises that have been launched off the back of his blog.
Well that's everything I know about how to know if you've got a good niche. How about you? Have you got any good niches? How did you know your niche was a good one? How long did it take you to start doing well in your niche? Leave your comments below.