The Rise and Fall of My Doll Unboxing Youtube Channel
In this blog post I'd thought it would be kind of interesting to review some statistics relating to my attempt to start a doll unboxing video channel on Youtube. If you're interested in starting your own doll channel, or you want to start any other type of unboxing channel, then you might find this blog post useful. If you have any questions about starting a Youtube channel then do please drop a comment below.
You can check out my doll channel – it's called Kawaii Dolls and it's here.
Incidentally I'm somewhat of a Youtube statistics and data nerd. I built the immensely popular FindAChannel Youtube channel directory and I run two other channels – one for Niche Laboratory and another one for coding tutorials.
On my unboxing Youtube channel, I primarily make videos about Dollfie Dream dolls. These are high quality 1/3rd scale ball-jointed dolls from Japan. People love them because they often come as their favourite anime characters. Unlike anime figures, you can also dress them up in other outfits, and pose them in a multitude of ways. Here's the first doll I acquired: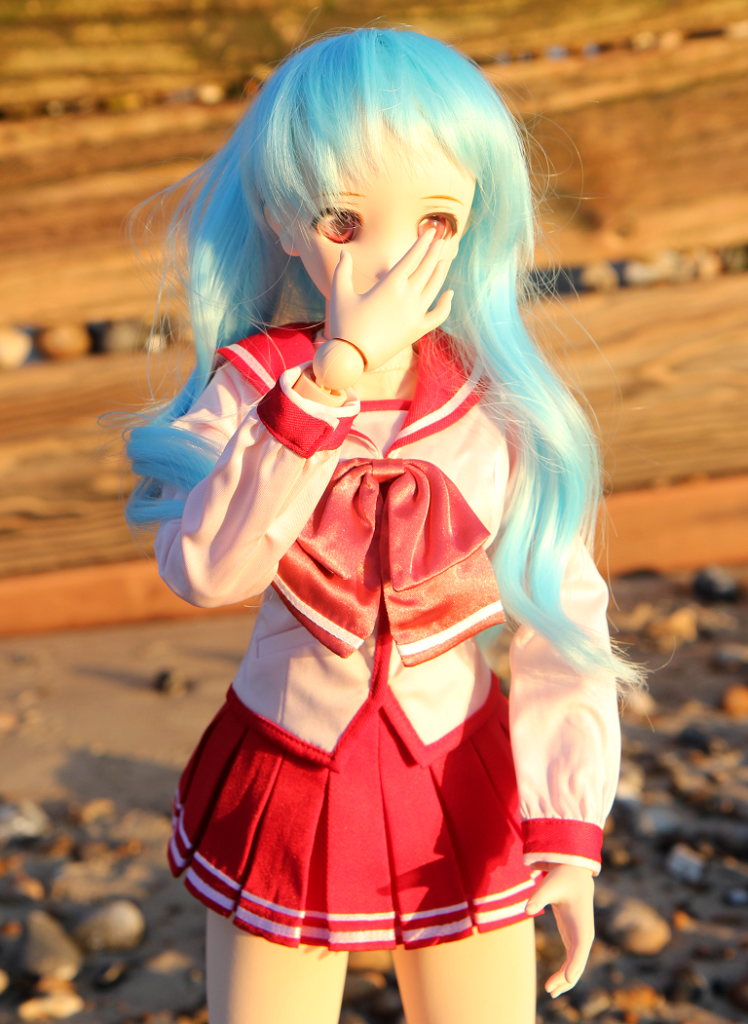 Despite the popularity of dolls, Dollfie Dream dolls are very specialised and very much a tiny niche of the much larger dolls niche. As you can see in the Google Trends chart below, interest in Dollfie Dream dolls is much lower than the comparative interest in Blythe dolls: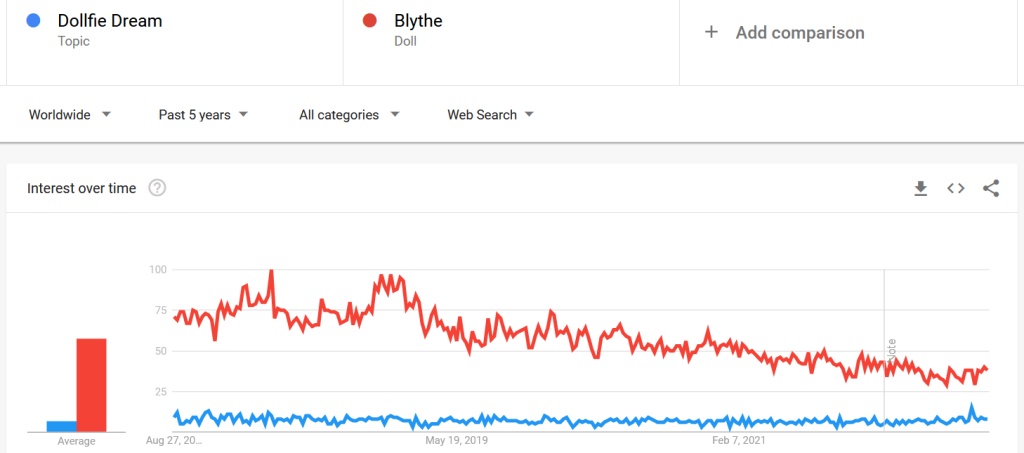 So when you're choosing a topic to make videos about you'll definitely want to consider how big the actual niche (and hence potential viewership) is.
Incidentally, Dollfie Dream dolls are an exceeding small niche, even within the country of their origin – Japan: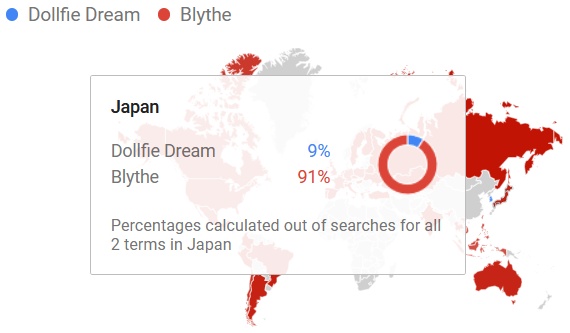 I guess a lot of this is down to the much higher cost of Dollfie Dream dolls compared to Blythe dolls. Also Dollfie Dream anime dolls tend to be aimed at male buyers, whereas Blythe dolls are almost exclusively aimed at women (and women on the whole tend to collect dolls to a higher degree than men do).
If you're planning an unboxing channel then ensure your niche isn't too specialised, as there may not be sufficient viewers to make the channel worthwhile. This is especially important if you want to reach monetization.
Having said that, smaller, more specialised niches can do very well on Youtube. If you choose a smaller niche then there will generally be less competition, and your videos may be more highly ranked by the algorithm.
For my doll channel I chose to focus exclusively on Dollfie Dream dolls.
At first my channel did very well. In the first 50 days the views chart looked like this:

I also gained 37 subscribers and accumulated 46.2 watch hours.
While these statistics are hardly earth shattering, it was an encouraging start. More importantly, the general direction of the chart spurred me on to create and publish a steady stream of new videos.
If there's one critical decider of success on Youtube, then it is the ability to keep going and publish content.
Sadly I really lost motivation on this particular Youtube channel. What's worse is that the audience pretty much collapsed when I stopped publishing content:

As I was unemployed when I started the channel, the traffic collapse definitely ended the dream I had of making a living from publishing unboxing videos!
So what went wrong?
The traffic surge was largely caused by one of my videos becoming one of the end screen videos featured at the end of another channel's popular videos. When my video was replaced, or the other video had a traffic collapse of its own then my own channel suffered as a consequence.
It's quite common to experience a surge of views to a particular video on Youtube. However, short term viewing surges don't tend to be particularly beneficial to the long term success of a channel. This is particularly so if the video in question isn't closely related to the content of the rest of the channel.
Another drawback to this traffic surge was the video in question was a short video (i.e. filmed vertically and less than one minute long). While Youtube has pushed shorts as a way of fighting back against TikTok, shorts aren't tremendously useful if you're aiming towards monetization. Furthermore it has been my own personal Youtube viewing experience that shorts can prove seriously detrimental to your channel's long term success. I've lost count of how many channels I follow who have really killed off my interest in their content by their repeatedly posting 6-15 second long short clips.
Some channels do make excellent use of shorts – one example is Fascinating Horror. Most channels however just degrade the performance of their long form revenue earning content.
Below are some basic statistics on the performance of my most popular Dollfie videos:

Having spent the last year building up a successful different channel, I'd definitely return to my doll channel and have a good look at the analytics statistics to see what works and what doesn't.
From the data above I could give myself some recommendations:
My ratio of likes to dislikes was rather on the low side. Ideally it should be above 95% but a couple of videos have dipped below this. One way I could probably improve Likes and also increase viewer retention would be to show my face on camera. At the time I had limited facilities for doing this. I now have a proper microphone and webcam and experience of filming myself for my other channel, so I would definitely try this with my doll channel.
I would focus on making longer videos rather than shorts. Actual shorts (the vertical sub-one minute long ones) also don't count towards monetization goals. When it comes to monetization, watch hours are counted and not views, so making longer videos is definitely helpful.
Some general feedback I received from the doll enthusiasts over on the Doll Dreaming forum is that unboxing videos are perceived as generally boring. Of course another issue I found is that they're also expensive to create – especially when it comes to Dollfie doll clothing (which generally costs the same or more than human sized outfits). It was encouraging to see that my video Why Are Dollfie Dream Dolls So Expensive was actually my 3rd most watched video. If I restarted this channel then I would definitely see if I could make more videos covering these types of topic, rather than just filming unboxing videos.
While I only had a single Dollfie doll when I was filming this channel, I now have two additional dolls. If I resumed shooting videos now my potential topic area is much larger. I should also mention that certain dolls are much more popular with viewers than others. For example Miku Hatsune is arguably the most popular Dollfie Dream doll ever released. I should definitely work this into my own videos. I don't own Miku but I do own her iconic wig. I also own one 'celebrity' Dollfie – Kizuna AI. So if I resumed my channel's video production then Kizuna themed content would be an absolute top priority.
That's enough about my own particular doll channel. What are other doll channels doing?
The My Lady Disdain channel is doing very well in what is a very specialised niche. With a small potential audience I guess they have still achieved monetization goals. I like that they don't just make unboxing videos. Their clickbait-style thumbnails are also very good. Here's one of their videos:
According to Social Blade's statistics for their channel they appear to have very high levels of engagement. Their videos attract many comments and as their content is generally quite long, they are probably gaining a good amount of watch hours.
Inari Passenger has an unusually named channel but if you search for BJD content on Youtube then it's quite likely you'll encounter her videos.
Here's a typical unboxing video:
Her videos are great and her thumbnails are excellent. However at the time of writing her most popular video was 2 years old and had achieved just 7,000 views. I would say that the drawback of her content is that it's rather too specialised. Although she does cover Dollfie dolls, a significant number of her videos cover the very obscure Azone Pureneemo range. Despite this I would imagine that her viewer engagement and watch time figures are above average for a doll channel.
One final doll channel I'll review is Shizusan's Doll Symposium. This guy started much earlier than most other BJD doll channels and so has one video that went super-viral and accumulated 644,000 views at the time of writing.
One activity Shizusan does is to live stream, and there's an example video below. While this video had only accumulated 228 views at the time of writing, he would only need a couple of viewers to watch all 4 hours and 3 minutes of this live stream to significantly boost his watch hours.
Incidentally, I would strongly recommend that you consider Youtube to be a long term project. As you can see from this extended views chart, my channel hasn't actually done too badly in its first 18 months:

If I had kept up a regular publishing schedule instead of giving up after less than 2 months then today's chart might look quite a bit better than the current chart.
I really can't emphasise the importance of regularly publishing new videos. In the chart below you can see that my coding channel's growth has been pretty impressive.

Incidentally the zig-zag pattern of views is because I receive substantially less views on my tutorials during weekends – school's out!
So if you want to start your own doll (or other unboxing) channel then here is a summary of my tips:
Youtube is hard work and you'll need to be in it for the long haul.
Dolls have many micro-niches but some of these topics have very limited potential viewership.
Think beyond simple unboxing videos. Opinion pieces can do very well, although be wary of criticising or offending people or companies because this is the quickest way to get your new channel shut down.
Put effort into choosing good video titles and making good thumbnails.
Focus on making longer content. If you want to do shorts, stick to TikTok.
Youtube can be a great showcase if you have an etsy store or some other way to monetize your love of dolls.
Would you start an unboxing Youtube channel? Do you have any tips for unboxing channel Youtubers? Drop your comments below.