Announcing Niche Laboratory Pro – Keyword Research for Windows PCs
Hi Everybody,
I'm pleased to announce that Niche Laboratory Pro is now available.
Niche Laboratory Pro is a Windows desktop PC application that you can download and use in the comfort of your own home.
It creates similar reports to the website version of the tool here. However, the Pro version has a number of advantages:
I've added some new data sources of long tail keywords that aren't available in the free website version.
It finds related niches so you can expand your online empire from red widgets to green widgets and so on (more on this later).
The free website version appears to get periodically blocked by 3rd parties so some of the reports frequently have stuff missing.
Niche Laboratory Pro allows you to save reports on your PC for future reuse.
I have some exciting plans for future versions. Anyone who buys Niche Laboratory Pro will get lifetime updates for FREE.
If you have a VPN service then you can use Niche Laboratory Pro with it to get keywords from other countries' markets as well as avoiding the potential temporary blocks and bans that can happen if you use keyword finding tools.
If you are a ClickBank affiliate then you can market it and make 50% of the sale price on any sales you make using your affiliate link. Go here for the affiliates page.
Get in now while the introductory pricing is in place! The order form is here:
Like all other products in the ClickBank Marketplace it has a full 60 day moneyback guarantee.
Below is a screenshot of the Niche Laboratory Pro user interface – this job is for the paleo diet you might have read something about: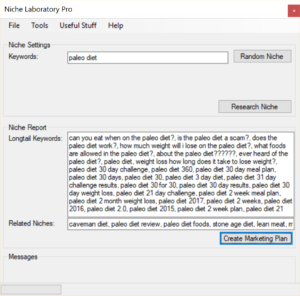 As you can see it's nice and easy to use. Put your search phrase in the first textbox, click the Research Niche button and keywords appear in the Niche Report. Click on the Create Marketing Plan button for a full detailed niche report.
The Related Niches textbox shows some slightly different niches that you might also be interested in. I want to expand this functionality in future releases as it's so darned cool. I've had a lot of success with my own blogs with making a blog about green widgets, then another one about red widgets. In fact I once found out about pink widgets and they're now my main source of affiliate income.
If you have any questions about Niche Laboratory Pro then leave a comment below. Also let me know if you would like to see any particular features in the next version.