The New Niche Laboratory Keyword Research Tool Is Here!
I'm super excited to announce that my latest mini-project is now available. I've called it the Keyword Research Tool. Here's a screenshot: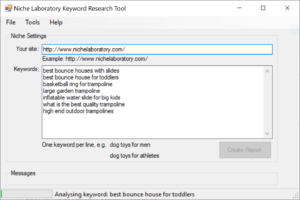 Download a trial version here. You get the full version for free when you buy the Niche Laboratory Pro niche research tool.
Basically I built this tool because there are lots of cheap (or free) keyword tools around but hardly any of them will actually tell you if you could easily rank for the keywords you've found.
This tool is really basic and just does one thing, but I hope it does it well.
Anyway, you feed it in a list of keywords and it will show you what the competition is like for each keyword. Everything is colour coded – green for easy, red for hard. Orange is so-so.
If you want to see a sample report then here's one I did for the bounce houses and outdoor fun niche. Many years ago I bought a micro niche site in the bounce houses site from Flippa. I had a bit of success with it, then gave up in order to focus on some other niches.
Anyway, as you can see in the Executive Summary part of the report, the competition in this niche does not look too severe:

In particular there are 3 long tail keywords that look promising: best bounce houses with slides, best bounce house for toddlers and basketball ring for trampoline.
The web is so competitive these days that us little guys have really got to focus on tiny microniches. In the results above basketball rings for trampolines is exactly the type of keyword that could be worth basing a microniche site around. Don't worry because even in this teeny, tiny niche the volume of sales must be massive!
What Sites Are You Competing With?
One other feature of Keyword Research Tool is that you get a list of what types of sites are appearing in the search results for each query. For example in the screenshot above you can see there are lots of padlocks and shopping carts for the large garden trampoline long tail phrase. This keyword's search results are being dominated by large membership (padlock) and or ecommerce (shopping cart) sites.
So this keyword is best avoided. My suspicion is that if you target lots of keywords and end up not ranking for any of them, then your site will be penalised by Google. Either that or you simply won't get any traffic anyway! I've actually done quite well on my own niche sites by removing the majority of the pages that don't rank. That seems to boost the ones that do rank. I'd guess this is something Panda or Penguin looks at.
Back to the sample results and you can see that the first four research results for inflatable water slide for big kids are blogs. This long tail keyword looks promising! At the very least you should go and visit the blogs and see what they're doing. They've ranked for good keywords, so they're obviously doing something right!
Another keyword I like in this list is next to last: what is the best quality trampoline. Sure, this keyword has a lot of competition, but I'm more interested in the keyword itself. This is a great keyword in that it targets buyers who are almost ready to buy but they want guidance as to which specific product to buy. These types of site visitors will make you $$$$$. You can often outrank Amazon and the other shopping behemoths for these keywords because traditionally they just show product pages – they don't do much with detailed reviews or comparisons.
Anyway, I hope you like the tool – give it a go and let me know if you have any comments or suggestions. Download a trial version of the Niche Laboratory Keyword Research Tool here.