Is Your Niche Competitive? Find Out With Our New Tool!
Thanks to the Covid-19 lockdowns I have a *lot* of time on my hands. So I've made another keyword tool. This one will tell you two important things:
How competitive a keyword is.
How popular a niche is with other bloggers.
I basically made something similar to the ahrefs Keyword Difficulty Checker but mine shows you popularity as well as difficulty. I've tested both keyword tools on a wide range of keywords. They seem to agree on a lot of keywords, which is reassuring given they probably have a million times more data than I do!
Anyway, here's a screenshot of my keyword tool and you can find it on FindANiche.Net here: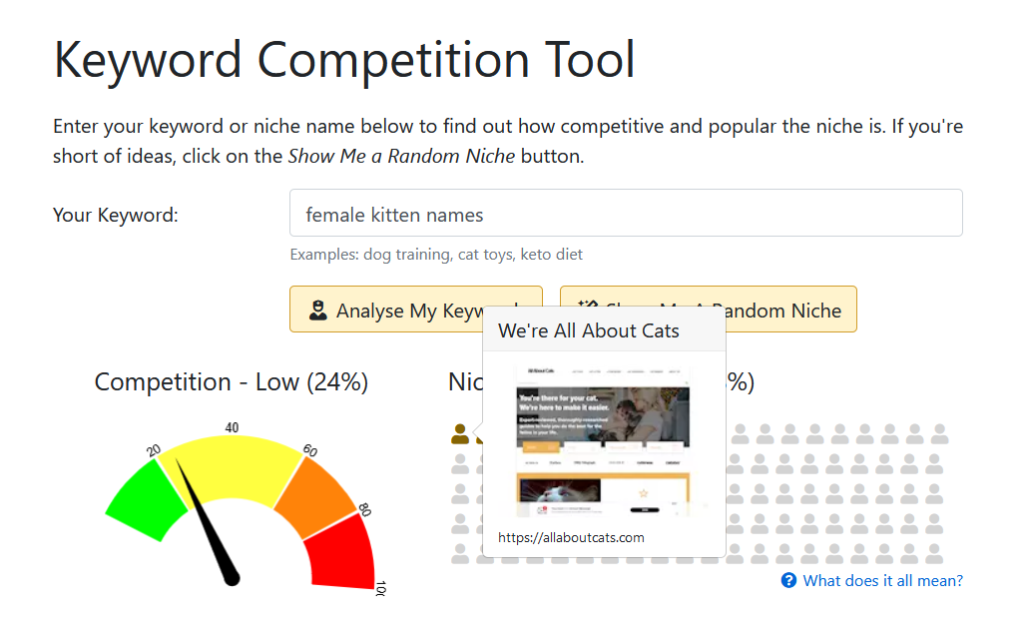 So how do you use it?
Basically you just type your keyword into the text box and click on the button below. If you don't have any keyword ideas yourself then simply click on the other button to get a random niche.
The tool takes a few seconds to run and then you'll see the results:
Competition Score: This is the part of the report on the left with the dial on it. This is a percentage and goes up to 100 for a really tough niche or down to 0 for an easy niche. Basically if you're just starting out blogging then ideally you'll want to be looking for keywords in the green zone of the dial (with competition less than 20). This score basically assesses your chances of getting in the top 10 search results for a particular keyword. So for something like weight loss or make money online then you have no chance at all! But don't worry because there are many keywords that are still not very competitive.
Popularity Score: The AHref's tool doesn't show this but I added it to my tool because I think it's really useful. This shows how popular a particular keyword/niche is with other bloggers. As you can see from the screenshot above I've been looking for keywords in the pets niche. It shows me that female kitten names might actually be quite a nice little niche idea. It doesn't seem too popular with other bloggers, so there are probably a whole host of long tail keywords I could find to blog about.
What's really cool about my tool is that you can hover over the little people icons and you are then shown a photo of a blog in that niche. This gives you an instant overview of what people are blogging about in any niche. Incidentally if a niche is more popular then you will see a lot more blogs featured. Look for make money online and you'll see every one of my list of 100 virtual bloggers has a blog about that niche!
With the female kitten names keyword I was also able to see that this niche is basically split into two: there are cat blogs and there are what do I call my baby blogs. Sometimes you can stumble across really interesting niches this way. For example, names is a great niche and a few years ago a British girl scored a major hit with a website that allowed Chinese people to choose English names for their kids.
For some keywords the tool will also show you a list of related keywords. Sometimes these can be really nice ones. For example when I searched for weight loss I was shown the super long tail keyword weight loss blogs for women over 40. This is a really nice idea for building a mini-niche site aimed at middle aged women who want to lose weight.
So I hope you find the FindANiche Competition Checker useful. If you have any suggestions then do please leave a comment below.