Don't Mess Around With Websites… Make Money Doing This Instead!
I just started my own personal YouTube Channel – it's here. I've been running the Niche Laboratory Channel for a year. It's done quite well so I thought I'd make some more videos in other niches.
Are you struggling to make money online? I know I am! My online income has slumped and is now down to 15% of my total passive income (the other 85% comes from rental property, high yield stocks/bonds and P2P investments).
I've sold a few copies of Niche Laboratory Pro, but at $10 a go that's not going to make me much coin.
So what to do instead?
In 2015 I did a one month CELTA teaching course at International House Barcelona. Now I'm teaching English overseas. So far I've had a 1350% return on the CELTA's £1500 course fee. What other education qualification offers such a great return on investment?
Teaching English is great if you do have some sidelines you want to work on. I get a 1-2 month paid vacation in January-February. I also get a retainer over the 2 month Summer break. In these months I get to work on my various side projects.
I also have a lot more spare time than I ever had working the 9-5 in corporate London. I only have a 10 minute commute to my classroom. I only teach for a maximum of 20 hours a week. Sure, there is a fair bit of preparation time for planning lessons and the like. However, as you gain experience then you'll build up a big portfolio of lessons that you can reuse time and time again.
Living costs are also low where I am, so I'm able to save around half my monthly salary. I've been stashing it into high yielding investments that are currently yielding between 8 and 10%. Yields have spiked recently due to stock market jitters. If you've got balls of steel then these are exactly the right times to invest!
You don't even need to teach English overseas. If you've got professional knowledge and experience of a particular career then you could also teach this. Here's a computer skills class I was taking a couple of months ago: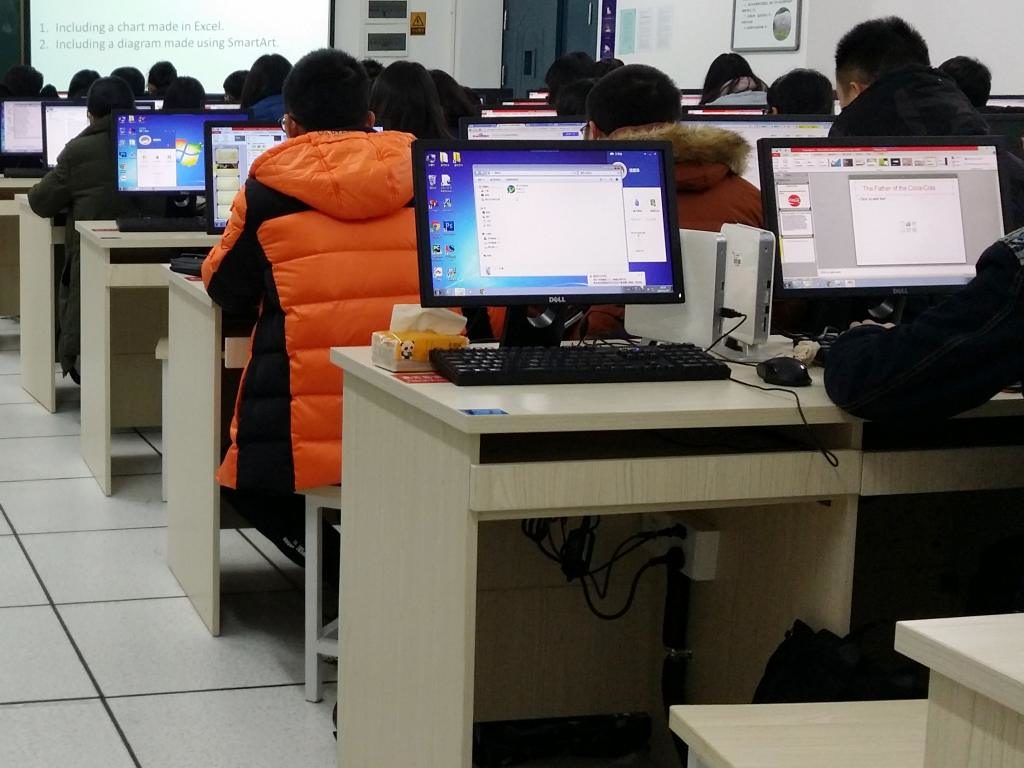 I used to work as a software developer so it was really nice to be able to give something back to the next generation of computer programmers.
So if you want more time and a pretty OK salary then why not give TEFL a go?
I'd love to say that it's all positive but let's start with a big negative – it's not always good living overseas.
Here's my first video and it's about the worst thing about working in China. Watch to find out what it is – or keep reading below.
Are you thinking about teaching in China? What's the #1 question to ask your prospective school?
Is your accommodation quiet!!!
For the past two years I've been living next to a construction site. It's been a nightmare. I love my job, but construction noise has really spoilt everything.
I've lived next to construction sites in other countries. But it's far worse in China. Builders can legally work from 6am to 10pm. They work weekends, public holidays, pretty much every day of the year! And don't count on them to keep to legal working hours. Frequently I've heard our local builders working way past 10pm. The other day they decided to start digging a drainage ditch at 2am.
I guess that I shouldn't complain too much. I mean many of us who teach in China get "free" accommodation. Well it's free in that we don't have to pay for it, but then our salaries are lower to account for the perk.
At the end of the day though, the constant noise is a real hassle, especially when you've got lessons to plan. One of our teachers just quite and next term my teaching schedule is a real doozy. I have to do 20 hours a week. It's not bad in theory. However last time I did a 20 hour teaching week I that included 6 x 2 hour lessons when I could reuse the same lesson. This term I have to teach a lot of different classes so I need to plan a total of 72 lessons for a 16 week term. I can't reuse that much either because I'm teaching reading (freshmen), listening and speaking (freshmen and sophomores, both in different departments) and writing (the elephant in the room when it comes to preparation).
I'll make some videos about what my campus accommodation looks like – I know a lot of people are curious about that.
My room is great – no real issues there. There's a noisy aircon unit above me but the teacher who lives in that room isn't there much. The actual dormitory block is fairly well built. The walls are quite thick and you don't hear too much noise from your neighbours. Most of the noise comes from outside.
Oh and I do know all about earplugs. I've been using them for years. They pretty much guarantee a good night's sleep. However, I've been wearing them so much that I've begun to worry if it's actually a good idea to use them. Also I'll point out that there's a limit to what they can cut out – they're useless against mechanical excavators digging drainage ditches, slamming doors and supersonic jet afterburners. I have to sleep though all of that!
Interesting things in the video:
00:01 They just enlarged the canal that winds its way through the campus. If you think the water looks bad, well people often go fishing in it. They're not supposed to, but they do.
01:27 It's common to see ofo bicycles on building sites. Don't ever think to ride them as the seat's usually covered in cement.
03:54 An old woman working on the building site. This is really common in mainland China. I also saw it in Hong Kong too.
As to the new buildings themselves… Well they're very much functional boxes! There's none of the fancy architecture used in the modern buildings I saw being built when I worked at the University of Essex a few years ago. Having said that, the original 1960's Essex campus was just one massive functional box, and now look at it.
Another video – this time a campus tour. Teaching at a Chinese university gives you plenty of spare time. On the downside the salary is much lower than you'd get teaching at a school or kindergarten.
I made this campus tour video as part of an ESL lesson I did with my freshmen students. I got them to make tour guide videos. One person was a tour guide, the rest of the group were the tourists. They made some really nice videos. A couple of groups visited a museum. Another couple of groups made videos downtown.
Anyway, I thought I'd make my own tour video. I hope you like it.
Most Chinese universities look like this. Our campus is around 5 years old. Sadly it looks a lot older as stuff's not built to last here. Still, the grounds are immaculate and there's a lovely smell from the many Osmanthus tree blossoms in the spring and autumn.
If you want a good lesson idea then get your students to make their own videos. I tend to get them to do this in groups of 4-5. Make sure they speak in English in the video, otherwise they have a tendency to just use a music soundtrack which doesn't really improve their English much. The students are pretty amazing at video editing, so they're unlikely to need any help from you on this front.
Some ideas for making videos: get them to make a tour, or get them to review a restaurant. They could also interview a foreigner. I don't really like setting this lesson though. There aren't many foreigners in our school. There are only 4 foreign English teachers for example. So if another teacher sets an interview a foreigner task then I end up having to be interviewed every time I leave my dormitory building!
Interesting things in the video:
01:51 Did you spot the student wearing a facemask? It's a very common sight on campus. I've taught a few girls who almost always wear their facemasks in class. It's less to do with pollution, or fear of getting a chest infection. Really it's more to do with self-esteem and trying to hide because they don't think they're beautiful. It's a tragedy really, because they are of course attractive young ladies in the prime of youth. Well George Bernard Shaw or Oscar Wilde were right when they said that youth was wasted on the young…
02:07 Yes there are indeed many stairs in our university campus. There are only 4 places that have elevators in the entire teaching blocks. It's not good to rely on them to get to and from classses as obviously there are 1000's of students going to and from class at the same time.
Our teaching buildings have 6 floors. In China the ground floor is always the 1st floor, so really the buildings are 5 storeys in Western conventions. Whatever, that's a helluva lot of stairs! It's 99 stairs to my classroom. Sometimes I have an 8am and a 3pm class, so that means I have to do a heck of a lot of stair climbing.
I can't complain too much though. I feel a lot fitter since I quit my cubicle slave job and went to teach in China.
02:02 That yellow Chinglish sweatshirt though. They always crack me up. One of my students would regularly come to class wearing a jacket that said F*cking Awesome on the back.
Got any questions about teaching English overseas? Have you tried it or is something holding you back? Leave your comments below and I'll answer them as best as I can.