What I Learned From Investing in 14 Different P2P Lenders
Brett from Niche Laboratory here.
In this post I'll talk about my experiences of investing in different P2P Lending platforms.
P2P might be of interest if you have some spare cash and don't want to put it in the bank and earn 0.05% a year in interest. I personally invest my niche website income into more income producing investments. In fact by 2017 my monthly investment income overtook my website income. But there are risks, so as usual DYOR.
In this post I'll talk through the 15 different lenders I've been invested through. All are UK based with the exception of Bondora, which is based in Estonia. You will find that P2P is big in a lot of countries now, especially the UK, USA, Australia and China.
For reasons of fairness, I'll list the lenders alphabetically.
Ablrate
This one is a bit different from the others in that it allows you to help finance loans against aircraft. There are sometimes some other industrial assets on there as well.
It's quite a nice site with a clean user interface. I no longer invest there as there were just too few loans to invest in. After Brexit hit I withdrew all my investments.
Assetz
As the name suggests, this site does loans against assets. These are usually properties, although there are a few green investments on there in the form of wind turbines. There are also a few loans secured on non-property business assets such as machinery.
Most of the loans here are property loans, especially bridging loans and BTL mortgages. I'm pretty happy with the loan quality here but I don't go crazy for the wind turbine ones.
I haven't really been keeping track of my investments here, but the amount invested there keeps rising month on month so it must be going OK. The dashboard says I'm making 8.45%, which is pretty good.
What I like about this site is that there are plenty of investments on there and it's generally easy to get money invested pretty quickly. There are also fund of fund type holdings that you can invest in and which spread your money around many different loans on the platform. There's a choice of the standard business loans or just the green ones.
Bondora
This is my only non UK based P2P platform I'm invested in. It's based in Estonia. It also finances loans in Finland and Spain.
Interest rates are high here (as much as 15 – 25%) but the loans are mostly sub-prime and very high risk. Defaults are high but recoveries generally quite good.
At one stage I fired up SAS and did some credit risk analysis on their loan book, working out where the lower risk opportunities lay. I did some interesting charts like this: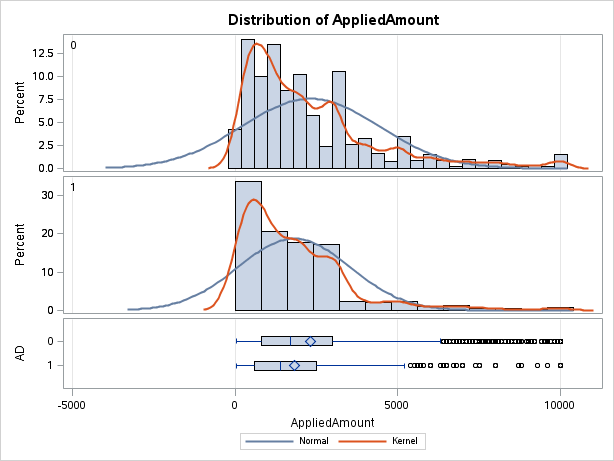 See my complete reports here, here and here.
Unfortunately they changed their reporting so I never continued the work. More importantly, they stopped you being able to select loans based on the factors I had worked out as being good indications of future default risk. So it was all a waste of time really.
I have also been quite lucky with currency fluctuations on Bondora. I invested while the Pound was strong against the Euro, and so my holdings have grown significantly in Pound terms since the Brexit referendum.
Funding Circle
This lending platform allows you to help finance B2B loans, rather than consumer loans.
Since 2015 there have been a lot more property loans on there as well. I've been lucky with these with no defaults to date.
As to business loans, I've had some defaults, but at a much lower percentage than on The Rebuilding Society. Recoveries seem pretty slow on this platform.
This is one of the two lending platforms whose offices I have actually visited. They're in prime Central London and very plush. I just worried that it had bubble written all over it.
In early 2016 I took the decision to stop funding non-asset backed business loans, so I don't have much holdings left on this platform. They didn't even entice me back with their offer of a "free" iPad when you invested a certain amount.
Funding Secure
I think this was the 4th platform I joined. I've been on there for around 3 years now. It's very much moved from a pawnbroking type site to a property site.
I liked it a lot while it did asset backed loans on cars, boats and valuables. I don't like it so much now it has largely moved into property. It very much covers the high risk sector of the market, and it's quite likely we investors would get our fingers burnt in a property crash. I've pretty much moved from here into Unbolted.
Having said that they are quite good at recovering monies owed due to defaults. It does take a long time, so as always don't invest money that you might need back in a hurry.
LendInvest
Another P2P provider whose offices I have visited and I've met the CEO. They're nice and they clearly have good vision and look after their staff.
LendInvest allow you to help finance property loans. There's a mixture of residential and commercial loans. Most of the loans are for redeveloping existing properties.
Thanks to their good credit risk team I've not had any defaults here so far. And since the loans are usually well under 70% LTV I'm confident that they would recover debts should a default event occur.
I would say that of all my P2P investments, this site is growing the most rapidly, with new loans available almost every day now.
If they get full FCA authorisation and start P2P ISA's then this is where my alternative investments ISA money will go.
MoneyThing
This does asset backed loans which are secured on vehicles, property and also some artwork.
Loans generally pay around 8% – 10% and I've not had any defaults so far.
There haven't been quite so many loans on this platform lately, so it's hard to get new money invested, but there is enough activity to invest the interest from other loans.
RateSetter
This is probably the best well known P2P brand in the UK as they did a big marketing campaign back in 2014 and are now a minor household name.
It's very similar to ZOPA, but rates tend to be higher.
Annoyingly once you're invested it's quite expensive to hurriedly withdraw your money again, so only invest money if you don't need it for a while.
Returns used to be up to 6.3% on RateSetter, but they've come down a lot since then. I no longer invest new money here as the rates have crumbled. At the time of writing they're offering 3.3% for a one year term and 5.2% for a 5 year term.
Rebuilding Society
This P2P platform allows you to invest in business loans. They primarily cater for the high risk end of the market. Loans in theory pay from 12 – 20%. However, my returns are down to around 6.5% due to a surge in defaults that occurred in 2015.
Since then I haven't invested any more money in this one as I was concerned about their credit risk procedures. However I have to say that their recovery team has done a reasonable job of recovering monies owed on most of the defaulted loans I was invested in.
Saving Stream / Lendy
This was the third P2P platform I joined and I've been pretty happy with the performance of my account.
On this site you can invest in property loans. They used to pay 12% but rates have come down somewhat for less risky properties.
Most of the properties are those that need to be redeveloped.
I've had one major default – the Midhurst Garden Centre, but that was eventually sold and I recovered my cash.
The secondary market works pretty well and when I had my post Brexit referendum panic I was able to sell out of about two-thirds of the loans I was invested in within 2 days.
I'm a bit wary of about half the loans on the platform, so I don't invest here so much these days. I prefer investing in prime areas, like London and the SE of England. I also avoid property without planning permission.
Unbolted
This is quite a recent one for me – I've been in there about 6 months now. It's mostly a pawnbroking operation, so the vast majority of the loans are asset backed.
The loans tend to be quite small as they're mostly secured on jewellery and watches. So money tends to get allocated to loans in small £5 chunks. The good news is that there are usually one or two loans a day and your money slowly gets allocated to these.
However, in 6 months I've managed to invest less than £1500, so it's not an easy place to quickly invest large amounts.
Wellesley
This one had a huge TV ad campaign back in 2014 but I don't think it's become a hugely well known brand.
I invested here for a while. The website is slick and easy to use. However the returns were nothing special and I never got my introductory bonus.
Wise Alpha
This platform is quite unique in that it allows you to invest in corporate bonds.
There are some good quality bonds on offer here, but like Ablrate new offerings don't come up too often.
I nearly visited their Canary Wharf offices, but due to a mix up with the invitations I was waiting for a confirmation email that never arrived. D'Oh.
This is quite a nice niche P2P provider, but I'm not sure there are too many advantages compared to just opening a stocks and shares ISA and investing in high yield corporate bond funds.
ZOPA
This is the first P2P lender I invested through. I opened my account back in August 2008 and I'm pleased to report that I didn't lose my shirt in the financial catastrophe that followed.
Returns have been steady, but the platform has got a bit, er, boring for me. Also interest rates have been creeping down. I think I was making nearly 6% in the old days, but now it's hard to make more than 3.7% on there without taking on significant risk.
P2P Provider Ratings
Based on my experiences here's my list of P2P providers, ordered by how I generally feel about them. The ones at the top are much more likely to get more investment money from me:
LendInvest
Unbolted
Assetz
Saving Stream / Lendy
MoneyThing
RateSetter
ZOPA
Bondora
Wise Alpha
Funding Secure
Funding Circle
Ablrate
Wellesley
Rebuilding Society
So that's been a tour of my P2P investments. I like P2P because a lot of my holdings are secured on assets.  While I also invest in the stock market, I'm always scared that one day a massive crash will happen and my portfolio will lose half of its value overnight. So I like to invest what I can in P2P.
Is P2P something you're interested in? Have you got any holdings and what has been your experience so far?
Save
Save